Welcome to Phoenix Winch!
Wakeskate & Wakeboard Winching is our way of life.
6.5 HP Winch for only $995!
Winch Details
Wakeboard in town with no boat? Yes it's possible- Welcome to the wonderful world of winching! Our base model (pictured with optional upgrades) comes with a 6.5 HP gas engine with governor removed, a centrifugal clutch, and 600' of line and handle. You're ready to shred right out of the crate. We can build a more elaborate machine for you including a splash guard, wheels, hitch mount, cable throttle, brake, and more, just ask.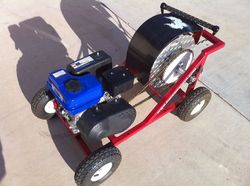 Need winch components?
Phoenix Winch
I can build any of the harder parts for you such as the frame or spool.
Come out and ride.
The temperature is warming up and we have some really exciting events coming this season. Please reach out if you would like Phoenix Winch to pull your event. In the mean time be sure to friend us on Facebook and follow us on Twitter!
Watch some videos